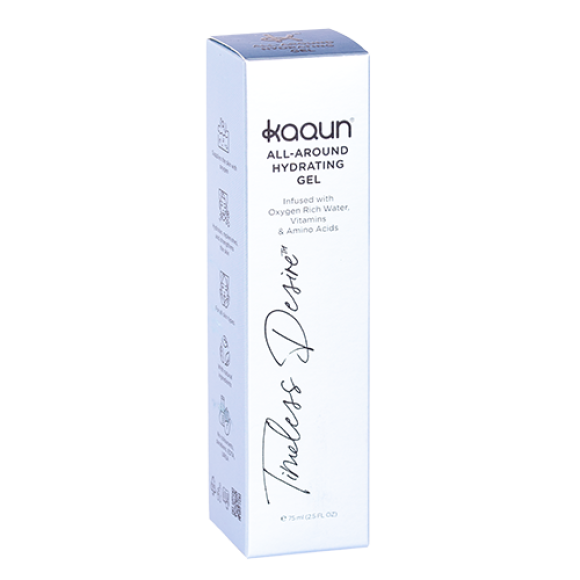 Out of stock
In our advanced water production facility in Hungary, we combine pure and natural ingredients with advanced molecular science to enhance the true power of nature. With the help of years of research, combined experience, and trial and error, we have created our remarkably hydrating skincare collection. One-by-one, each ingredient and formula has been methodically and thoughtfully developed to the highest of standards. To ensure the highest quality our products are individually handmade guaranteeing the utmost transparency, traceability, and integrity.
Core Ingredient: KAQUN Water
Made in the Bükk mountains in Hungary with our hyper-oxygenation technology. Our clinically tested water is 90% of this natural skin care product. Water is clinically tested to strengthen the skin barrier and protect it from exposome to factors such as UV rays and pollution.
Additional Ingredients: Amino Acids and Vitamins
Our natural gel contains additional ingredients such as amino acids and vitamin B3-B5 to further enhance its hydrating effect and provide sufficient nutrients for the skin. 
All-natural:
Our products are free of paraben, fragrance, oil, alcohol, and silicon. It is our go-to natural beauty care product for all skin types.
Benefits
Makes skin more resistant to visible signs of aging by exposome factors (UV, pollution, stress)
Moisturizes, fills, strengthens the skin barrier
Helps strengthen the skin's resilience
The skin will be hydrated day by day, radiant with freshness, refreshed
very light texture
Easy to apply and quickly absorbed
Application 
Use as a regular face moisturizer on its own or as the first step of your skincare/makeup routine
Apply 2-3 drops of KAQUN Natural Gel on your skin after cleansing morning and evening
Spread with outward movements from the middle of the face, without applying too much pressure
Moist and warm skin absorbs the active ingredients better
The Issue
The primary role of our skin is protection. Throughout the day our skin is exposed it is exposed to external factors like pollution, UV rays, fatigue, and stress, which together can cause up to 80% of skin aging. The skin's protection system can become weak and show signs like dull complexion, dehydration, fatigued appearance and an overall lack of freshness and radiance.
Our solution
KAQUN Natural Gel will help to strengthen & repair your skin barrier, hydrate & plump the skin. Made with a minimalist formula with only natural ingredients, safe and effective for all skin types.
How it feels
Lightweight, fast-absorbing translucent gel
Absorbs quickly leaving skin feeling comfortable, softer, and hydrated
Non-greasy
All-Around Hydrating Gel | 75ml
A deeply hydrating dry skin moisturizer in a refreshing, lightweight water-gel texture. Made with carefully selected amino acids, vitamin B3-B5, and KAQUN Drinking Water to strengthen & repair your skin barrier. This daily hydrating gel has been used and recommended by women worldwide. Safe and effective for all skin types, in a minimalist, fragrance-free formula with only natural ingredients.